Nevil Shute Novels on Entrepreneurs Back in Print
In move to new website some older posts on books were left behind, including this post on the compelling novels of Nevil Shute.
Nevil Shute was a successful aircraft engineer and businessman who wrote novels in the evenings to relax. For years writing was a hobby but later as sales increased his second career as a novelist "took off." Amazon has a Nevil Shute page here.

Maybe Shute's early writing was more a way to relax after a long day in the rapidly changing aircraft industry. Or maybe he was frustrated by the anti-business stories in popular novels and media in England. His novels allowed him to explore and share his first-hand experiences in wartime England and later in the aircraft industry of the post-war years.
Shute's later challenges included complex government regulations, trade restrictions, monetary controls, and the anti-business climate in his native England. Shute's autobiography, Slide Rule, tells more of his careers.
Nevil Shute's novels have been in and out of print over the years, but many are now in new editions and others available used and in Kindle editions (Amazon link again).
Many Shute novels draw from aircraft industry experience, others from his life after moving to Australia, and earlier novels are World War II adventures. All were captivating reading for me, bringing to life men and women of competence and integrity, including capable businessmen (and sometimes shady ones) living their lives and getting things done.
Slide Rule recounts Shutes experiences as designer and executive in the aircraft industry, including the amazing story  tells of the tragic R100 vs. R101 experiment carried out by the English government (government vs. private enterprise in the airship industry. Brief outline here. Separate article soon).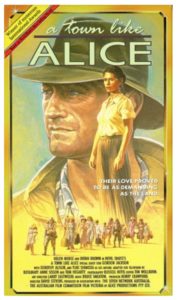 Most people who have heard of Nevil Shute know only his best-selling post-nuclear war novel, On the Beach. Some have seen the wonderful six-hour Australian mini-series based on his novel The Legacy, retitled  A Town Like Alice (where the heroine becomes a successful businesswomen). This great mini-series is still not available on DVD or for online streaming. Only available on VHS tape, unfortunately. (DVD versions offered online are pirated from VHS and poor quality.)
With Shute's other novels  back in print, readers can have the pleasure of reading or re-reading these inspiring stories. And we can hope that more successful businessmen will develop the skills and take the time to write good novels.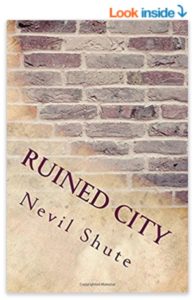 Also recommended is Ruined City, a financial novel set in an economically depressed coastal English shipbuilding town between World Wars I and II. You can "Look inside" on Amazon. A travelling but depressed investment executive falls ill and while recovering in small shipbuilding town notices the town and it's out-of-work people are dying. He draws on financial markets and shady overseas dealings to bring the Ruined City back to life.
Some Nevil Shute novels were made into movies, including On the Beach, The Far Country, A Town Like Alice, and No Highway in the Sky. There is even a documentary, Fall Out, on the filming of On the Beach, which was a major event in Australia.
For Stoa debaters researching the transportation debate topic, No Highway and Slide Rule are the most relevant Nevil Shute novels. (More on this when more articles from previous website are posted soon.)