Federal Higher Ed. Debt: Almost $1.5 Trillion
"A Look at the Shocking Student Loan Debt Statistics for 2017," (Student Loan Hero, Updated: July 11, 2017) reports:
Americans owe over $1.4 trillion in student loan debt, spread out among about 44 million borrowers. That's about $620 billion more than the total U.S. credit card debt. In fact, the average Class of 2016 graduate has $37,172 in student loan debt, up six percent from last year.
Student Loan Hero reports the "Total (All Federal)" student loan debt at $1,331.7 billion owed by 42.3 million borrowers.
Rich people don't have to borrow, though they can. The wealthy have their own money to spend and invest. Lower and middle income families usually need to borrow to buy a house or a car, and often to pay for college education.
Going into debt can be a reasonable way to gain an college education and degree, but a lot depends on how valuable the education and how much the debt. Borrowing to buy a house and car can be reasonable, unless families pay too much compared to value, or if their monthly payments are too high for their income.
Salespeople can sometimes confuse buyers with optimistic or misleading sales pitches. So people end up buying things they don't really want or need, or pay too much (and borrow too much) for cars that may not last or get as good gas mileage as expected. College degrees can be marketed in much the same way, costing far more than expected and worth less.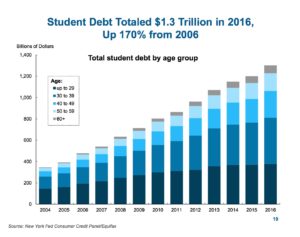 "Report: 44 million student loans, $27,857 average, 27% think they're free," (Washington Examiner, June 1, 2017) quotes the Student Loan Report on a number of misunderstandings. Of students surveyed:
• 27.50% of respondents incorrectly believed the Department of Education would forgive all, or part of, their student loan balance.
• 53% believe there is a fee to consolidate federal student loans. It is a free service, but many borrowers get scammed this way.
• 54.75% regret taking out the amount of student debt that they did.
• 20.25% believe there are no negative consequences for the cosigner if they make a late payment on a private student loan.
Federal loan programs may seem generous, but both push college tuitions up and have saddled tens of millions of students with over a trillion in debt. "How Unlimited Student Loans Drive Up Tuition," (Forbes, February 22, 2017) reports:
Several recent studies have found evidence that other federal student aid programs drive of tuition increases. A 2015 study found that a dollar of subsidized (non-PLUS) student loans increases published tuition by 58 cents at a typical college, with larger effects once reductions in institutional financial aid are taken into account. An NBER paper issued last year concluded that changes to federal student loans are more than sufficient to explain tuition increases at private nonprofit colleges. And a 2014 analysis found that for-profit colleges eligible for federal student aid charged tuition 78% higher than that of similar but aid-ineligible institutions.
The article focuses on the federal Parent PLUS loan program:
The Parent PLUS loan program itself, though, has received comparatively little attention. However, its importance has grown: Parent PLUS loans currently account for 20% of all undergraduate loans disbursed by the federal government, up from 13% just six years ago. The Parent PLUS program lent out $12 billion during the 2015-16 academic year. The program has nearly quadrupled in size since 1995, driven both by increases in the number of borrowers and increases in average disbursements (see chart)…
Poor Parent PLUS loan program design creates incentives for college to boost tuition:
Unlike most other student loan programs, PLUS loans are not capped—parents may borrow up to the cost of attendance, which is determined by the college. This creates incentives for colleges to increase student charges, since the federal government will make sure all eligible parents have access to the money.
Vast college overspending and student overborrowing have are the consequence of well-meaning but special-interest driven federal higher ed. policies pushing student loans.
For more see "Press Briefing on Household Debt, with Focus on Student Debt," (Federal Reserve Bank of New York, April 3, 2017)